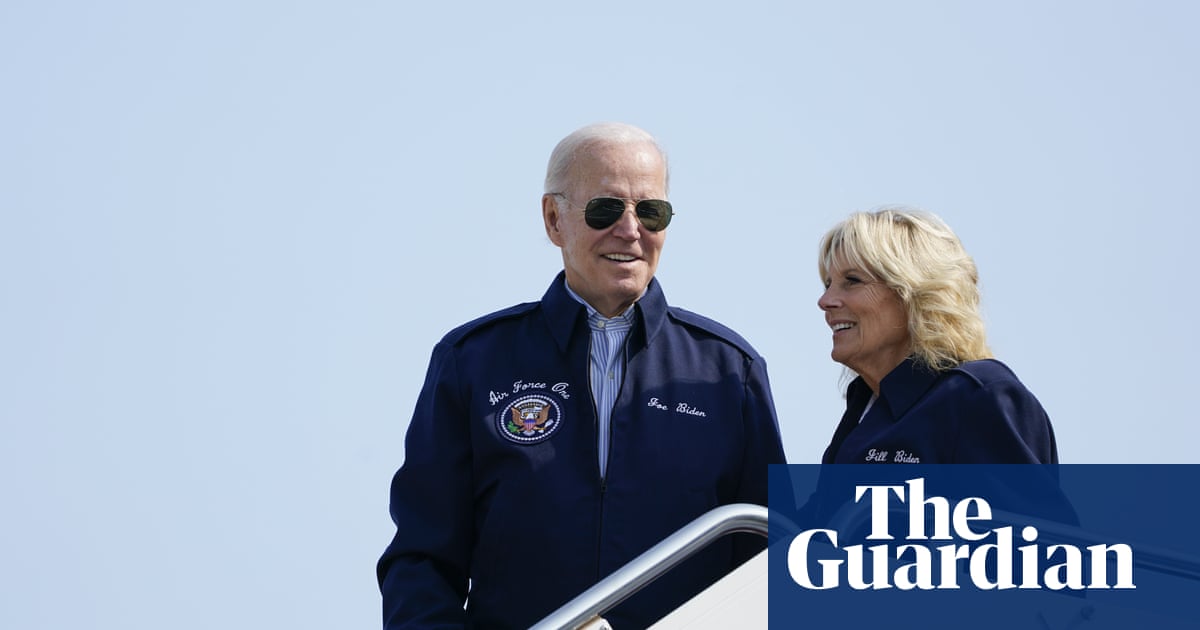 Joe Biden and his wife Jill arrived in the UK on Saturday to attend the funeral of Queen Elizabeth, who the US president has described as "more than a monarch" and a woman who "defined an era".
The Queen's state funeral on Monday is to be attended by almost 100 presidents and heads of government, and the Bidens were traveling without any former US presidents.
The Bidens, who joined the Queen for tea in June 2021, arrived in Air Force One at London Stansted airport just before 10pm local time (5pm ET) on Saturday.
On Sunday they are scheduled to pay respects to the late sovereign, whose coffin is lying in Westminster Hall. Afterwards they will sign an official condolence book before attending a reception hosted by King Charles.
The White House had said earlier this week that the royal invitation to the funeral, which takes place at Westminster Abbey, was for the Bidens only.
However, other members of the president's entourage include the national security adviser, Jake Sullivan, deputy chief of staff, Jen O'Malley Dillon, and director of Oval Office operations, Annie Tomasini.
Ahead of the funeral, world leaders were advised against using their own vehicles to attend the event and have instead been asked to use commercial flights and will be shuttled to the funeral venues via buses.
However, the travel protocol will not apply to the Bidens. The president and his wife are expected to arrive at the funeral in "The Beast", the president's own armoured car. Another leader who was granted a similar exception is the Israeli president, Isaac Herzog, as he will be allowed to bring his own vehicles, Politico reported.
The "two-tiered" system has been met with criticism from various world leaders and their staff members as they too demand similar treatments, citing various reasons including old age and security concerns.
On Saturday, Downing Street also confirmed that a planned weekend meeting with President Biden and the UK's new prime minister, Liz Truss, will now be held on Wednesday at the UN in New York.
Downing Street would not provide further details on why the meeting with Biden had been cancelled but it would have taken place against a backdrop of disputes over the Northern Ireland protocol and difficulties working towards a trade deal with the White House.
The queen, who died on 8 September after a 70-year reign, had met multiple US presidents, including, in more recent years, Donald Trump, Barack Obama and George W Bush. She met 13 of the last 14 American presidents, all except Lyndon Johnson and starting with Harry Truman in 1951 when she was still a princess.
Biden, 79, has said the Queen reminded him of his mother. Last week Biden said of the Queen: "In a world of constant change, she was a steadying presence and a source of comfort and pride for generations of Britons, including many who have never known their country without her."
The president is deeply familiar with grief, having lost his adult son to cancer in 2015 and his wife and young daughter to a car accident decades ago.
The president will return to Washington on Monday after the funeral.
Earlier this week the US and UK governments played down suggestions that Biden could be banned from using a helicopter and obliged to travel by bus when he and leaders from around the world congregate in London.
Adsense Arbitrage website traffic Get Adsense Approval Google Adsense Earnings Traffic Arbitrage YouTube Monetization YouTube Monetization, Watchtime and Subscribers Ready Monetized Autoblog
from World News – My Blog https://ift.tt/U1AJSp4
via
IFTTT