Some independent mortgage lenders feeling the brunt of increased lending rates are declaring bankruptcy and have already laid off hundreds of employees in certain instances, in what is being described as the worst shape the housing market has been in since the bubble burst in 2008.
Some lenders have already downsized or closed permanently, Bloomberg reported, such as First Guaranty Mortgage, a company majority owned by fixed-income giant Pacific Investment Management. After making loans this year that dropped in value, First Guaranty filed for bankruptcy in June, resulting in 471 of its more than 600 employees losing their jobs.
Referencing data from LendingPatterns.com, Bloomberg reported that non-bank lenders composed two-thirds of refinancing firms in 2021—up from about one-third in 2004. Banks' market share has decreased from half to about a third since 2016, according to news and data provider Inside Mortgage Finance.
Susan Wachter, professor of real estate and finance at the Wharton School of the University of Pennsylvania, told Newsweek that there are "some similarities and stark differences" between what happened 15 years ago and what is taking place today—alluding to mortgage origination dropping by 50 percent.
"What happened in the 2008 great financial crisis, excesses in lending made the mortgage lending industry—that made these real risky loans—implode," Wachter said. "That was kind of a supply shock."
While mortgage loans then became insolvent, now it's not "risky lending practices" but a decline in demand, she said, notably for refinanced mortgages as borrowers have no incentive to refinance when rates are doubling instead of decreasing due to the Fed raising rates.
"It's kind of the opposite of what happened in 2007," she said, saying that back then prices plummeted because loans could not be paid back and borrowers were underwater. Now, prices are not falling but rising.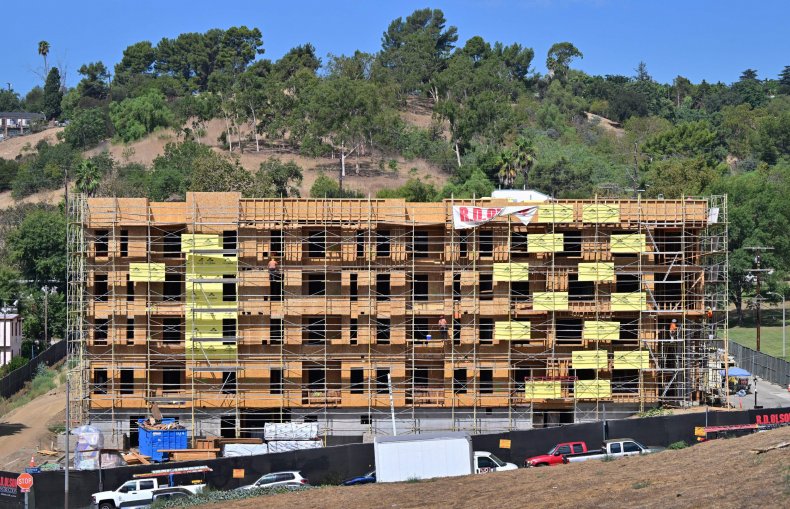 "Right now, the consumer is really keeping the economy going and they're doing that because they have substantial housing wealth to fall back on," said Wachter, adding that first-time homebuyers are "on the sidelines" due to a 20 percent housing price increase this year, or 40 percent over two years, and not being able to qualify for loans.
Mortgage costs have increased nearly 80 percent over the last two years, she added.
National Association of Realtors Chief Economist Lawrence Yun told Newsweek via email that "there is a housing recession in terms of fewer home sales, lower housing starts, and declining mortgage lending, especially the collapse in mortgage refinance."
In addition to fewer construction workers and "sizable" cuts in the lending industry, Yun said consumers won't find many discounts to take advantage of in this economy.
"The housing market is on a solid foundation with imperceptible distress," he said. "Homeowners are still experiencing wealth gains. Let's just hope that home price growth will moderate to a single-digit percentage rate of annual appreciation to give a prospective homebuyer's income a better chance to catch up.
"With fewer sales, the extent of multiple offers is less intense. It is still the case that 40 percent of homes are selling for or above list price due to the ongoing housing shortage," Yun said.
Wachter, who co-authored a book called The Great American Housing Bubble about the 2008 recession, said if mortgage rates continue to rise significantly, there may be "a hard landing" economically. It's compounded by the fact that the Fed will likely keep raising rates until inflation comes down.
"It will hit mortgage markets even worse because housing will become even less affordable," she said. "We will see housing prices not just decelerate; we will see housing markets fall….I see no silver lining for the mortgage industry in this coming period. The wave, the problems that took the industry down are likely to worsen. Expect independent mortgage companies to be even more challenged."
Update 8/23/2022, 3:10 p.m. ET: This article was updated with additional comments from Susan Wachter.
Adsense Arbitrage website traffic Get Adsense Approval Google Adsense Earnings Traffic Arbitrage YouTube Monetization YouTube Monetization, Watchtime and Subscribers Ready Monetized Autoblog
from Mortgage and Finance – My Blog https://ift.tt/0AfNptD
via
IFTTT