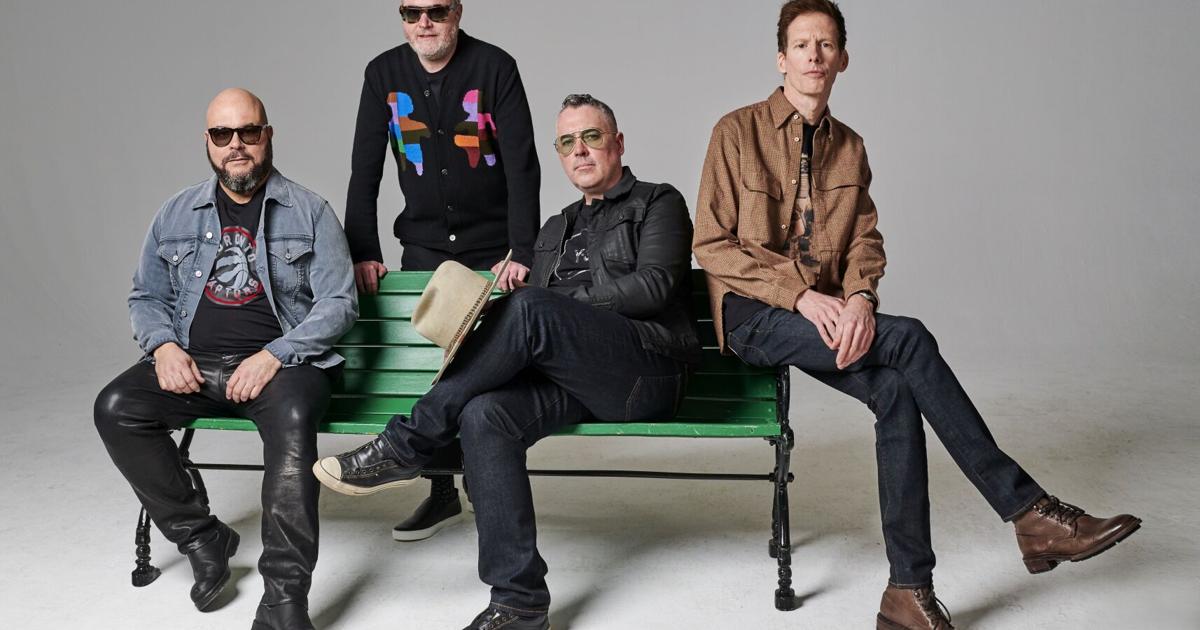 Through Saturday
Rodgers and Hammerstein's Carousel
Amish Acres Round Barn Theater
1600 W. Market St., Nappanee
The dark musical continues all season long, telling the story of the romance of Billy Bigelow, a charming carousel barker, and Julie Jordan, a pretty worker from a nearby mill.
When the attractive young couple gets married, they also both find themselves unemployed, which puts a strain on their relationship. When Billy finds out that Julie is pregnant, he resorts to extreme measures to get money, a decision that leads to tragedy.
Tickets for the show range from $13.95-67.95, depending on age, meal and seat location.
Contact the box office to reserve seating at 574-773-4188, ext. 213 or boxoffice@thebarnsatnappanee.com.
FRIDAY
Friday Fest
5-9 p.m.
Nappanee's Friday Fests have bounce houses, games, musical performances, a brewfest and festival foods.
This month's Friday Fest will feature the fourth annual Food Truck War. Participants can vote for their favorite food truck and the winning truck gets $200, a trophy, a write up in the local paper and on social media, and they don't have to pay the vendor fees at any of Visit Nappanee events in 2023.
There will also be a car and bike show. Participants can register on site.
For more information, visit https://fb.me/e/3fMVtZSKf.
FRIDAY-AUG. 28
Classics In the Park
Richard Pfeil Family Courtyard, St. Joseph County Public Library
304 S. Main St., South Bend
• Jane Austen's classic novel "Sense and Sensibility" follows the societal struggles of the Dashwood sisters as they navigate the delicate rules of Regency society. After their father dies, the Dashwood sisters watch while their world and social status collapse. Their search for true love and acceptance in society causes them to question their beliefs, realizing that fairytale endings are not always what one expects.
"Sense and Sensibility" showtimes are 7 p.m Aug. 12, 14, 18, 20 and 26.
• William Shakespeare's, "Much Ado About Nothing" is a comedic play involving two intertwined love stories. The storyline is driven by misunderstandings, deception, and love, creating chaos and intrigue. Don Pedro falls in love with Hero but is tricked by his mischievous brother into believing that she has been unfaithful. In light of this, Don Pedro refuses her at the wedding ceremony. The other couple, Benedick and Beatrice, is tricked into believing that each one cares for the other although their history has shown that they prefer to antagonize each other. This faux revelation makes them reconsider their tumultuous relationship. Ultimately, all the madness becomes regarded as much ado about nothing.
"Much Ado About Nothing" showtimes are 7 p.m. Aug. 13, 19, 21, 27 and 28.
Both performances will take place at the Richard Pfeil Family Courtyard outside of the St. Joseph County Public Library. Enter through the south parking lot gate. Audiences are invited to bring lawn chairs, blankets, snacks, and nonalcoholic beverages of choice. Tickets for either show can be purchased for $25-$30 through the South Bend Civic Theatre at https://sbct.org/.
FRIDAY
7 p.m.
Free Movie: Monsters University
Goshen Theater
216 S. Main St.
Ever since he was a kid monster, Mike Wazowski (Billy Crystal) has dreamed of becoming a Scarer. To make his dream a reality, he enrolls at Monsters University. During his first semester, he meets Sulley (John Goodman), a natural-born Scarer. Sulley and Mike engage in a fierce rivalry that ultimately gets them both kicked out of MU's elite Scare Program. To make things right, Mike and Sulley, along with a bunch of misfit monsters, will have to learn to work together.
The movie is rated G with a run time of one hour 44 minutes. The event is sponsored by The Community Foundation of Elkhart County.
Entry to Goshen Theater's free movie screenings are free, but donations are welcome. Doors open at 6:15 p.m. and concessions will be open, COVID permitting.
Visit goshentheater.com for more information.
FRIDAY
8 p.m.
A Gammage Solutions presents Micki Miller
DeBartolo Performing Arts Center
100 Performing Arts Center, Notre Dame
South Bend artist Micki Miller's upcoming performance is "an ode to R&B," and an "homage to the soul music that's impacted me," she said. The styles, blended together to create her own style, along with some original music, the evening will feature confessional lyrics and melodic grooves reminiscent of Jazmine Sullivan, India.Arie, and Jill Scott.
Adult tickets are on sale for $25 at www.performingarts.nd.edu. For more information, visit or call the DeBartolo Performing Arts Center Ticket Office at 574-631-2800 from noon to 5 p.m. Monday through Friday.
FRIDAY
9 p.m.
Happy Together tour
Four Winds' Silver Creek Event Center
11111 Wilson Rd., New Buffalo, Mich.
This year marks the 13th year of the highly successful, hit-filled summer package, The "Happy Together" Tour. The touring sensation that has crisscrossed the nation delighting audiences for over a decade returns this summer with a show full of chart-topping hits from the '60s and '70s — 61 Billboard Top 40 smashes. The tour is once again joined by The Turtles, who also act as musical hosts for the evening. Along with The Turtles will be Gary Puckett & The Union Gap, The Association, The Buckinghams, The Vogues, and The Cowsills.
The tour has played more than 50 plus shows a year and 2022 will be no exception. More information on the Happy Together Tour is available at https://theturtles.com/tour. Ticket prices for the show range from $60 to $85, plus applicable fees, and can be purchased online at www.fourwindscasino.com/newbuffalo. Hotel rooms are available on the night of the concert and can be purchased with event tickets.
SATURDAY
6 – 9 p.m.
20th Century Murder Mystery Dinner
National New York Central Railroad Museum
721 S. Main St., Elkhart
Friends of the New York Central Railroad Museum will host a murder mystery dinner at the museum. Dinner is provided by Villa Macri, 225 Toscana Blvd., Granger, and tickets may be purchased online. All funding goes toward caboose renovations.
Dinner will be soy dill salmon, applewood bacon chicken, beef ravioli, mushroom risotto. All meals include bread and oil, salad, side of green beans, and cheese cake with 20th Century style coffee.
For more information, visit https://fb.me/e/4byrlm9GY or call 574-294-3001.
AUG. 19
7:30 p.m.
Satisfaction: The International Rolling Stones Show
Goshen Theater
216 S. Main St.
The international touring tribute band to the Rolling Stones will be in Goshen on Aug. 19.
The Billboard & Pollstar highly rated show is entering its 20th year in production with over 4,000 performances listed to their credit. Their client list includes the nation's top casinos, performing arts centers, music halls, and corporate clients.
They have been featured in Rolling Stone magazine, Showbiz Magazine, Las Vegas Today, CBS Sunday Morning News, and hundreds of national newspapers, magazines, television & radio as the world's greatest show honoring the Rolling Stones and their legacy.
Tickets for Satisfaction: The International Rolling Stones Show are $25.
Doors unlock at 6:45 p.m. and seating begins at 7 p.m. Concessions and the bar will be open for sale.
Visit www.rollingstoneshow.com for more information.
AUG. 19
9:30 – 10:30 p.m.
Summer Astronomy: A Journey Through Time
Bonneyville Mill County Park
C. R. 131, Bristol
The Elkhart County Parks Department is hosting a program on summer constellations. Participants will enjoy a snack, make-and-take star chart, and helpful tops on how to find the constellations as well as the Greek and Roman mythology surrounding them.
Sky viewing through a telescope will also take place, depending on cloud cover.
This program is $3 per person and open to all ages, but advance registration required. Meet at the Briar Patch Shelter in Bonneyville Mill County Park. Preregister at elkhartcountyparks.org.
AUG. 20
3 – 9 p.m.
EnviroFest
Island Park
N. Main St & E. Sycamore St., Elkhart
The 25th annual EnviroFest by the Elkhart Environmental Center and WVPE will feature live music, food, drinks, kids activities, canoe rides vendors and more, aimed at teaching sustainability to the public at-large. There will also be local beer and wine garden for locally crafted beer for those over age 21.
This year Bike Elkhart County is offering free valet service for the event. Those who bike to the event will also receive a free raffle ticket for a chance to win new bike gear.
Admission is $5 per family of any size.
For more information, visit www.elkhartenvirofest.com or call 574-293-5070.
AUG. 26
7 p.m.
Dueling pianos
Ironhand Wine Bar
1025 Northside Blvd., South Bend
A one-of-a-kind dueling piano show by Chicago's famed Howl-to-Go will offer a high-energy show for the Morris 100 Capital Campaign.
Tickets are on sale now for $15 at morriscenter.org or $20 at the door and is open to all ages. Tickets are limited and those interested are encouraged to purchase in advance. Proceeds will benefit the Morris 100 Capital Campaign.
The night of the event, attendees are encouraged to enter a special "Season of Theater" drawing to win a package valued at over $1,000. One winner will be the recipient of two tickets to two shows at a variety of performing arts theaters in the South Bend area. For every $20 donated or pledged that night, one entry will be awarded.
Learn more about the Morris 100 campaign at https://www.morris100.org/event/dueling-pianos/.
AUG. 27
9 p.m.
Boy George & Culture Club
Four Winds' Silver Creek Event Center
11111 Wilson Rd., New Buffalo, Mich.
Few new wave groups were as popular as Culture Club during the early '80s. During that time, the group racked up seven straight Top Ten hits in the U.K. and six Top Ten singles in the U.S. with their light, infectious pop-soul. Though their music was radio-ready, what brought the band stardom was Boy George, the group's charismatic, cross-dressing lead singer. George dressed in flamboyant dresses and wore heavy makeup, creating a disarmingly androgynous appearance that created a sensation on early MTV. George also had a biting wit and frequently came up with cutting quips that won Culture Club heavy media exposure in both America and Britain.
Culture Club reunited in 2014 for a tour and the band also began work on a new album with producer Youth. The group scheduled the release of an album called Tribes in 2015, but the record never materialized. Instead, the recordings provided the foundation for Life, the 2018 album that marked Culture Club's first new album in nearly 20 years.
Ticket prices are $79, $89 and $115, plus applicable fees, and can be purchased online beginning at 11 a.m. Hotel rooms are available on the night of the concert and can be purchased with event tickets.
More information on Boy George & Culture Club can be found at https://boygeorgeandcultureclub.net/.
from Entertainment – My Blog https://ift.tt/91NQJEC
via
IFTTT