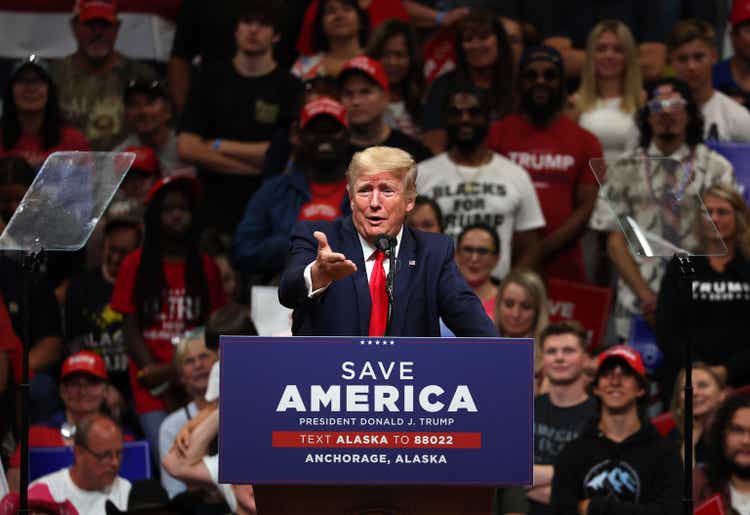 While all of the regulatory probes and FBI raids could help the popularity of former President Trump, Digital World Acquisition (NASDAQ:DWAC, NASDAQ:DWACU) needs a weakened Twitter (TWTR) to have any hope of success. With signs that Elon Musk is preparing to fund the deal to purchase Twitter, the Trump media empire still appears dead on arrival. My investment thesis remains very Bearish on the SPAC deal where the valuation still makes no sense.
Twitter Deal Back On
Trump Media & Technology Group (TMTG) basically created Truth Social as a Twitter clone after President Trump was kicked off the platform. TMTG and Digital World needs the platform to at least stay perceived as anti-conservative in order to gain much traction. Elon Musk selling more shares to close the Twitter deal isn't a good sign that a new social media platform will even be in demand in a few months.
The Tesla (TSLA) CEO sold another $7 billion worth of shares indicating his concern that the ongoing lawsuit in Delaware court might force him to close the deal. Considering the transaction is worth ~$44 billion, Musk is likely to dive into improving the platform to make his large investment worthwhile whether he still wants the social media platform or not.
In such a scenario, Truth Social is unlikely to garner users above the most hardcore Trump fans. The platform hasn't provided much data on users lately, but the app isn't ranked high on App Store downloads. At least, Truth Social continues to release improvements to the app, but the Android app is only a pre-order on the Google Play Store.
While updating the platform is a positive, some research continues to suggest Truth Social isn't a haven for free speech. Other social media platforms have struggled with content moderation and Public Citizen research appears to suggest Truth Social is having similar problems per Cheyenne Hunt-Majer:
Truth Social is far from the haven of free speech that Trump promised, as even conservative viewpoints and links have been shadow-banned. It's not at all clear how Truth Social determines which content will be labled as sensitive, why some content is censored after it's posted, and why other content seems to be preemptively blocked from appearing on the platform at all.
Either way, TMTG isn't building much of a media empire to suggest the original financial projections are going to be beat, or even matches. A lot of SPACs end up missing targets and in this case investors can just run with the forecasts for 2023 total users at 41 million and revenues of only $114 million.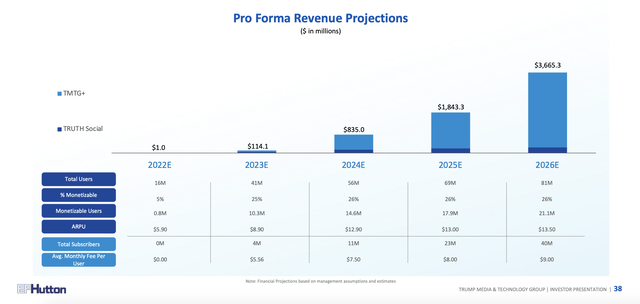 Note, Nextdoor (KIND) is a successful social app focused on local users recently reporting 75 million registered users and 37 million weekly average users (WAUs). The platform launched back in 2011 and hired former Square (SQ) CFO Sarah Friar, yet the business just cut 2022 guidance to revenues of $225 million.
Truth Social can definitely ramp faster than Nextdoor, but the app doesn't appear to have anything more than a niche business and all of the other me-too social platforms have struggled as well. Similarly, Nextdoor was a promising SPAC deal with revenue expectations of $249 million this year. The company already has a successful platform and still couldn't hit smaller targets than the Truth Social 2024 plan at $835 million.
Nextdoor only produced $1.48 per user in Q2 ARPU and other smaller social media platforms have struggled to reach higher numbers. The company is only on a pace for 2022 ARPU in the $6 range while Truth Social forecasted for users to generate nearly $13 each by 2024 in basically the second year of full operations.
Crazy Price
Despite all of the negative headlines, Digital World still trades at $30. Sure, the stock is down nearly 70% from early 2022 highs near $100, but one has to question why the SPAC ever traded this high.
If the SPAC deal closes and that remains uncertain due to the regulatory probes, TMTG will have ~200 million shares outstanding. The actual amount depends on the share price utilized for the $1 billion in PIPE shares.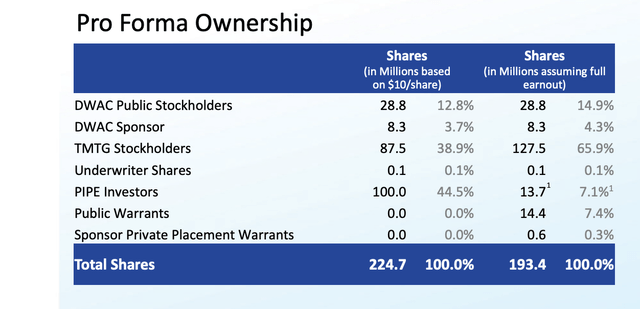 Either way, the stock would currently have a fully diluted market valuation of ~$6 billion. Nextdoor isn't even worth $1 billion after the dip following Q2'22 earnings and Pinterest (PINS) with over 433 million users has a valuation just topping $15 billion.
The Digital World valuation doesn't appear to have adjusted for the damage recently done in the social media space, much less the reality of SPAC forecasts constantly being wrong. The reality is that TMTG was likely too aggressive with their financial estimates and now the advertising market weakness hitting sector numbers from Pinterest to Nextdoor to Twitter would support an additional cut to revenue targets, even assuming Truth Social can reach the user targets.
Either way, when TMTG posts a quarter in 2022 or 2023 after the deal closes where the actual revenues are immaterial, the stock isn't likely to maintain a valuation in the billions.
Takeaway
The key investor takeaway is that Digital World isn't accurately priced for the difficulty of building a new platform. When TMTG cuts financial targets, whether due to aggressive SPAC estimates or the weak economy, the stock will no longer trade anywhere close to $30 and a $6 billion valuation. Investors need to sell the stock already.
Adsense Arbitrage website traffic Get Adsense Approval Google Adsense Earnings Traffic Arbitrage YouTube Monetization YouTube Monetization, Watchtime and Subscribers Ready Monetized Autoblog
from World News – My Blog https://ift.tt/Okq57zy
via
IFTTT